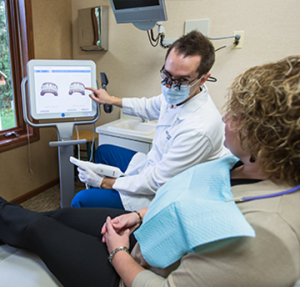 Our patients love Invisalign! Some of the many benefits of Invisalign clear braces include:
1. Invisibility: Why should everyone know you're wearing braces? Metal braces change the way you look during treatment, but Invisalign braces do not. Your peers will notice when your teeth are straighter, but won't notice your aligners. You don't have to change your appearance to wear Invisalign clear braces.
2. Freedom: You can continue to eat all of your favorite foods without any dietary changes! Traditional braces require limitations on crunchy, chewy, and sticky foods including popcorn, apples, and caramel. You can remove your clear braces to eat and drink so you won't have to worry about food getting caught in your orthodontics.
3. Knowledge: Before you begin treatment, you can see what your smile will look like after Invisalign. Using our advanced computer visualization technology, we will show you an image of your straight, perfect smile after Invisalign clear braces so that you can decide if you want to pursue treatment.
4. Convenience: Invisalign doesn't interfere with your busy lifestyle. Your clear braces are removable so that you can brush and floss easily. Most office appointments are quick and required only once every four to six weeks!
5. Comfort: Clear braces are made of a smooth plastic that won't irritate your cheeks and lips. Your clear braces are custom-fit to your mouth to provide constant comfort.
And, of course, one of the most important benefits of Invisalign is that you're going to see outstanding results. Benefits of Invisalign or braces, in general, include a straighter, healthier smile that is less vulnerable to decay and disease.
Get Closer to a Perfect Smile with Clear Braces in Missoula
Dr. Brett Felton would be honored to be your Invisalign dentist. Due to his experience, artistry, and skill, he is well qualified to give you that perfect smile you've always wanted!
You are going to feel confident during and after Invisalign treatment. For more information, call Felton Dental Care today. We look forward to speaking with you!