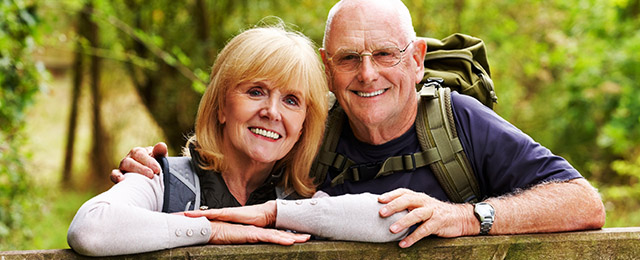 Missoula dentist Dr. Brett Felton and the great team at Felton Dental Care work closely with our patients to develop the best denture solutions for their unique needs and circumstances.
We understand that getting dentures can be a difficult event for some—but it doesn't have to be. By crafting a custom denture solution for our patients, we make sure they are set up for success and can live life fully without fear of limited dental function.
Benefits of Dentures
Our patients love dentures for their ability to:
Restore tooth function for proper chewing and biting.
Replenish confidence lost by having visibly missing or damaged teeth.
Support your facial muscles.
Modern Dentures
Dentures are false teeth used to replace natural teeth due to damage, disease or wear.
Dr. Felton has invested in the technology and training to provide Missoula residents with the best denture solutions available. You need not worry about old "wood" dentures legendarily attributed to George Washington that fall out while eating. Modern dental composites and processes create beautiful, natural looking teeth that allow you to smile and laugh with confidence.
All-in-all, your denture experience will be much more enjoyable than those of the past—in fact, you may not even notice you are wearing dentures at all!
Dental Implant-Supported Dentures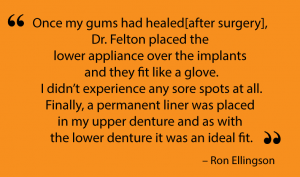 Dr. Felton also offers dental implant-supported dentures, which truly are a revolutionary step in the field of dentures.
Dental implants are placed and allowed to set up in your mouth, becoming strong like the natural tooth roots that were there before. When the implants have stabilized and are ready, dentures are affixed or mounted to these dental implants. The result is permanently attached, implant-supported dentures that look and function like your natural teeth.
Explore Your Denture Options in Missoula
For those who are viable candidates for dental implant supported dentures, their dentures will be a surprisingly pleasant solution and give them the proverbial "new lease on life," allowing them to not have to worry about their smile and to share it confidently with friends, family, and acquaintances.
Call, text, or contact us using the form below to schedule a visit. Dr. Brett Felton can help find the best denture solution for you.