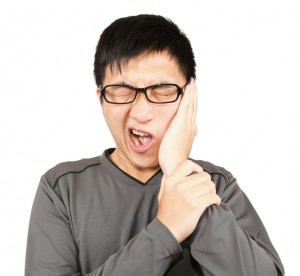 Do any of these symptoms seem familiar to you?
You are experiencing pain or clicking in your jaw joint.
You have popping sounds in your ears.
You are suffering from headaches or pain in your temple area.
Your jaw is sore and may even lock up.
If any of these symptoms sound like what you are experiencing, you may have a problem with your temporomandibular joint, or TMJ. The temporomandibular joint is the joint that connects your lower jaw to the temporal bone of your skull. When this joint is injured or damaged, it can lead to a disorder that is sometimes called TMJ, but the correct name for this disorder is TMD—or temporomandibular joint disorder. This disorder can be caused by clenching or grinding your teeth, or placing too pressure on the TMJ with other activities.
What Are the Most Common TMD Symptoms and Side Effects?
Some of the most common TMD side effects/symptoms include:
Headache | Having a reoccurring, or almost constant headache can come as a side effect of TMD. Utilizing modern TMJ treatment techniques, we can help stop TMJ headache problems and put your TMD issues to rest.
Popping, Clicking, Grating | If your TMJ tends to pop, click, or even grate on a regular basis it may mean you are suffering from TMD. Sometimes it may even feel like your jaw gets "stuck" or "locks". This may even result in difficulty chewing. With proper TMJ treatment, our team in Missoula can help you heal your jaw joint and get your oral health back where it needs to be.
Jaw Soreness | Having a jaw that is sore frequently or regularly often is a sign that your TMJ might be misaligned and you may have TMD. Our team near Lolo and Frenchtown, MT can help you minimize soreness from TMD and help your jaw joint become realigned with TMJ treatment.
Pain or Discomfort in the Ears/Face/Neck | Although it might not seem immediately obvious, having a misaligned jaw or suffering from TMD can cause discomfort that radiates into other areas. Frequently TMD can result in the ears and parts of the face and neck feeling increased pressure, discomfort and even pain. You may even experience swelling on the side of your face. Utilizing modern TMJ treatment techniques for patients who live in the Missoula, Lolo, or Frenchtown, MT, areas, we can help you relieve pressure and discomfort caused by TMD.
Why Do TMD and TMJ Problems Happen?
There are some fairly common reasons why TMJ problems or TMD can occur. Some of the most prevalent causes of TMD and the need for TMJ treatment include:
Teeth Grinding | Grinding your teeth can do a lot of damage, and not just to your teeth! Frequent teeth grinding can often result in need for TMJ treatment, especially if you grind them during your sleep—this can be a lot of hours of teeth grinding!
Misaligned Bite | Under certain circumstances, your jaw and your bite can become misaligned over time. This can often result in a TMD.
TMJ Treatment Is as Close as Our Office in Missoula
To help you find a solution for your facial pain, Dr. Felton is available to provide you with a proper diagnosis. Dr. Felton uses dental appliances—particularly the Kois deprogrammer—to treat TMD issues. The Kois deprogrammer is a removable retainer-like appliance that allows Dr. Felton to evaluate the stability of your bite. The Kois deprogrammer will help change your bite and allow your lower jaw to relax into a more comfortable position.
This process usually takes up to one month. Once your jaw is relaxed, Dr. Felton will be able to provide you with treatment options to help you maintain your bite in this more comfortable position. The change in your bite is usually very slight, however the improvement in the feel of your bite after wearing the Kois deprogrammer will be dramatic. The Kois Deprogrammer helps adjust your jaw and bite to reduce your facial pain. Relief for your TMD symptoms is on the way.
Get Relief From TMJ Headaches With TMJ Treatment in Missoula
Have more questions for us about TMJ treatment or TMD? Let us help you put your TMJ headaches and associated pain behind you—whether you live in Missoula or Lolo, MT. Call, text, or contact us using the form below to schedule a consultation at Felton Dental Care today!