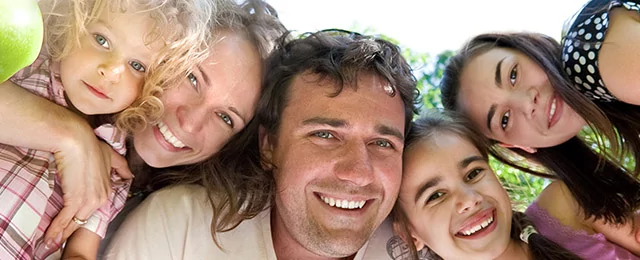 Family dentist Dr. Felton and the team at Missoula's Felton Dental Care offer top-quality family dentistry to care for your whole family's general dentistry needs. Our practice keeps up with the latest technology and the best and most effective general dentistry practices to ensure you and your family's oral health for years to come.
Services Offered By Your General and Family Dentist in Missoula
We provide nearly every general dentistry treatment you or your loved ones may need. Below is a list of some of the most common general dentistry procedures:
Dental Cleanings | Nothing beats the fresh feeling after a dental cleaning. Our gentle and experienced dental hygiene team will help you understand the value of healthy teeth and gums, while giving you that "fresh from the dentist" feeling. Now that's something to smile about!
Dental Crowns | Dental crowns are used by your family dentist to replace the visible portion of your tooth that has been damaged, broken, or removed. Our dental crowns are masterfully crafted and placed so you can smile, laugh, and live life the same as you would with your natural tooth or teeth.
Dental Implants | If you have lost a tooth for any reason, a dental implant may be the best solution for you. A dental implant is placed in the stead of a tooth's natural root and serves as an effective and permanent replacement on which a dental crown may be placed. The result is a healthy and strong foundation that allows you to live as if you still had your original tooth.
Dentures | Our general dentistry practice offers fantastic denture solutions if you have come to a point where you need to replace your natural teeth. Advancements in dental technology help us create the most natural looking and functioning dentures available.
Laser Dentistry | 21st century general dentistry has significantly changed people's experiences and expectations regarding normal dental visits. Laser dentistry enables us to identify cavities at their earliest stages (before they can become much bigger problems) and even do fillings without a drill or even a shot. Our family dentist, Dr. Felton, keeps current to make sure our patients have the best and most comfortable experience possible.
Family Dentistry
Felton Dental Care offers comprehensive dentistry options for family members of all ages. Dr. Brett Felton has years of experience in making sure that patients have a comfortable experience at their office, and is understanding of younger patients' needs. Dr. Felton hopes to be your one stop shop for family dentistry in the Missoula and Lolo, Montana, area.
Emergency Dentistry in Missoula
There is nothing worse than a toothache. We know this, which is why we have times in our schedule each day specifically for emergency dental appointments for our patients. If you're not a patient of our office, we will still do all we can to get you in and help take care of your tooth pain. Please don't wait, the sooner the issue causing the dental emergency is addressed, the easier the treatment will be.
Contact Felton Dental Care for Family and General Dentistry in Missoula!
Schedule a visit today to the Missoula family dentist Dr. Brett Felton. Whether it is for a regular dental hygiene visit, no-shot laser fillings, custom dentures, or emergency dentistry, come see how our family dentistry team can take care of you and your whole family's general dentistry needs.