Dr. Felton has been my dentist for more than five years. More recently, my wife and children have become his patients and we have nothing but the greatest respect and praise for Dr. Felton, his staff and the competence of their care. I would highly recommend Dr. Felton to anyone looking for thoughtful, professional, engaged and excellence in dental care.
-John Knight, November 2021
---
Felton Dental team is always incredibly kind and caring. Julie is always wonderful to schedule with and all the hygienists are very concerned with making you as comfortable as possible during the appointment. Dr Felton is caring and thorough in his work. Highly recommend Felton Dental!
-Louise Spencer October 2021
---
This was hands down the best overall experience I've had at a dentist. Everyone was so kind and careful to make sure I felt comfortable and safe. Dr Felton took the time to listen and learn about me and was incredibly gentle. Highly recommend!
-Elkhorn Slough, July 2021
---
Even since my first visit, their team has been welcoming and take the time to get to know you—they have that personal touch. Dr. Felton is very thorough and great at answering questions no matter how large or small. Appointments are consistent and completed on time. The entire visit is streamlined, making it very easy to understand each step of the process.
They've responded appropriately and taken the necessary precautions to keep staff and patients safe in 2020 and beyond. It's great to see businesses step up in the community and continue offering the same level of care even through hard times.
Highly recommended if you are looking for a great dentist in Missoula.
-Blake Morton, February 2021
---
Dr. Felton has the perfect mix of expertise, professionalism, care and friendliness. I'm a long-time patient who has benefited more than once from his thoroughness and willingness to go the extra mile. His office staff mirrors his manner and I have encountered only efficiency in their well-run office. Definitely 5 stars!
-Carol Vickstrom, June 2021
---
My wonderful experience at Felton Dental began with a phone call… Julie, who is a delightful receptionist, assured me they would not be scared to take care of my teeth even though it had been 8 years since my last dental appointment. When I came in for my exam and x-rays, Dr. Felton treated me like an old friend- not like a stranger off the streets with a dirty mouth. Thank you for that Dr. Felton. Today, Nancy, the dental hygienist, knocked the chunks off and swept the nooks and crannies in such a way that I think she might have enjoyed it! She was soft and gentle and addressed my concerns and questions like a genuine angel. So, if you are looking for a new dental practice- for an exam, cleaning or getting some old fillings fixed- or even if you like going to the dentist just for kicks- I strongly recommend Felton Dental Care.
-Eric France Simmons, February 2021
---
My previous Dentist had retired and I had fallen behind on my dental care. I was referred to Dr. Felton and the experience has been exceptional from day one. Dr. Felton and his team have been extremely caring, responsive and professional. I would give Dr. Felton my highest recommendation.
-Mike Callaghan, February 2021
---
I had an implant place over 10 years ago, in the past few years I began to notice a grey color at the gym line on both my implant and crown. These teeth were right in my smile line. I was self conscious about they greying at the gym line, the color of my teeth and the disproportions. Not to mention that I had composite on my two front teeth, and was in need of crowns. Dr. Felton addressed all of these concerns. The results are unbelievable. I am so pleased with my smile now, which is a huge change for someone who used to cover her mouth when she would smile.
-Magdelene Willison, January 2021
---
Since finding Dr. Felton & his excellent crew, for the first time in my life, I am no longer worried about going to the dentist's office! Everyone is so kind & patient. It truly is a relief to be able to look forward to my appointments!!.
—Leslie, Feb 2017
---
My journey lasted just over a year from the initial examination to completion. Throughout the entire process I was treated professionally, respectfully, and personally with each visit to Dr. Felton's office. If you are contemplating implants or getting dentures I highly recommend Dr. Felton and Felton Dental Care. Looking back on the whole adventure, it was worth every minute to finally have a smile again. It has changed my life just as Dr. Felton said it would.
—Ron Ellingson, July 2015
Click here to read Ron's full description of his experience getting dental implants and dentures from Missoula dentist Dr. Brett Felton.
---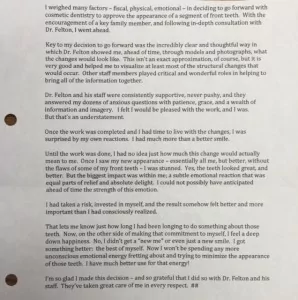 "Until the work was done, I had no idea just how much this change would actually mean to me. Once I saw my new appearance – essentially all me, but better, without the flaws of some of my front teeth – I was stunned. Yes, the teeth looked great, and better. But the biggest impact was within me; a subtle emotional reaction that was equal parts relief and absolute delight. I could not possibly have anticipated ahead of time the strength of this emotion."
—Anonymous
---
"I had extensive dental work done with Dr. Felton. A front tooth crown cracked off and he had to replace it with an implant. I found him and his staff to be friendly and very caring as I went through the long process. I highly recommend him as I am so pleased with the fit and color of my new front tooth."
—Julie Radtke
"I recently had my first exam at Felton Dental Care and it was a great experience. I appreciated the friendly service and the care I received. Dr. Felton and his staff took the time to get to know me and I am happy to make this office my new dental home!"
—Lawrence Bland
---
—Kathy, speaking about sedation dentistry
---
"Dr. Felton and his team are always friendly, helpful and service oriented. I have been visiting them for years and have always been very pleased with everyone there."
—Ryan S.
"Dr. Felton and his staff have been great to work with. The level of professionalism is just what you hope for when it comes to your health, especially the health of your teeth. Each of his staff members take time to get to know you which make for a delightful atmosphere. Sitting down to talk about the plan of care when I needed a crown made the decision very easy from the patient perspective. I've recommended Dr. Felton to others in the community and will continue to do so. I like knowing that the provider I go to gives back to his community too. Each year they work with local non-profits to give back, check out his Smiles for Life program. Thank you Dr. Felton and team!"
—Kara McCarthy
---
—Rebecca, speaking about laser dentistry
---
"I visited Dr. Felton on an emergency visit. His staff was able to accommodate my schedule and I had an appointment within a day of calling in. I was greeted by a very welcoming staff that made the new appointment process a breeze. I was then introduced to Dr. Felton who took me into a side room where we got to know each other. This was much appreciated as I wasn't just another customer to him. He actually cared who I was and was genuinely interested in what I had to say. The appointment went very smoothly, and Dr. Felton as well as his assistants kept me informed the entire exam. This made me feel very comfortable the entire time. I wont lie, I hate going to the dentist, but I'm looking forward to visiting again after my appointment. I've even recommended him to several co-workers. By far it was the best visit to a dentist's office that I've ever had."
—Austin Habich
"Dr. Felton and staff are amazing! I have had a fear of dental work for many years and Dr. Felton and staff made me feel comfortable. They also addressed the issues that were important to me and really helped my smile come our more and more. I am so thankful for Dr. Felton. He is not only kind to his patients, he does great work!"
—LeAnn Dolly-Powell
"My family and I had just moved to Missoula, with a relocation comes the task of establishing a new dentist, family doctor, pediatrician, hair dresser, etc. and hoping you have made a good decision. I feel I made the best decision with Felton Dental Care. Dr. Felton and staff are fantastic! The entire experience was great, from the friendly welcome, the thorough and efficient cleaning to the "enjoy your summer, see you next time'. I am thankful for the referral I received and would recommend them to anyone."
—Jen Shelton
"Dr. Felton and all his staff have aways been professional and friendly. I am very confident that I get the best dental care available. My line of work has put me in face to face contact with thousands of dentists and hygienists nationwide for several years. Preventive and restorative dentistry is fast evolving and improving dental health care. Dr. Felton and his staff have provided the best current solutions for my dental care."
—Roger Guiditta
"Not that long ago, most people dreaded the dentist's office. All that has changed especially at Dr. Brett's office with its competent and friendly staff. Dr. Felton carries on a fine tradition that started with Dr. Terry Zahn: a comfortable, welcoming, and conveniently located office, state of the art equipment and technology and especially personalized care and concern for patients. Dr. Brett Felton not only brings a top level of knowledge and skill to his profession, he also contributes time and effort to community projects. As a Missoula native, he has returned to the town he obviously loves to serve his neighbors with a sincere dedication to his profession and community. Need a checkup or major work? Dr. Felton and his staff will make it a pleasant and worthwhile experience."
—W. Haffey
"I visited Dr. Felton s office for the first time, recently. My husband recommended him. I was impressed with Dr. Felton s expertise and professionalism. Dr. Felton listened to me, and fixed the shape of a crown that had been causing cold sensitivity for several months, on the spot! Further, Dr. Felton s staff is equally conscientious and devoted to patient education and health. I highly recommend Dr. Felton and his office. You won't be disappointed."
—Monica Roscoe
"I went to see dr. Felton today and I ve never felt so comfortable at a dentist office. This was the best dentist experience that I have ever had. They took the time to examine my teeth well, educated me and explained what they were doing every step of the way. I'm hooked! I'll be going there for as long as I live in missoula!"
—Allison Osborn
"I recently moved to Missoula and was recommended to Felton Dental Care by a co-worker. Going in, I had an old filling that had recently fallen out, a chipped tooth, recent periodontal treatment, and hadn't had a full cleaning in about 2 years. After 3 appointments now to help get me all fixed up, I am very glad I chose Dr. Felton s office. The office is clean and comfortable and the entire staff is friendly and professional. All of my appointments have been on time and have not run longer than expected. My overall experience has been much more pleasant, and much less painful than I had expected going in. I would highly recommend Dr. Felton to anyone else."
—Trey Graft
"We all come with baggage from previous dental experiences & Dr. Felton & his staff get it! It is so refreshing that they take the time to get to know you & your concerns before jumping into treatment and the treatment they provide is both expert & efficient, but also flexible. You can interject or take a break if you need to! If you live in the Missoula area, Dr. Felton should be your dentist :)."
—Heather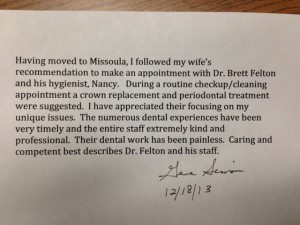 "Having moved to Missoula, I followed my wife's recommendation to make an appointment with Dr. Brett Felton and his hygienist, Nancy. During a routine checkup/cleaning appointment a crown replacement and periodontal treatment were suggested. I have appreciated their focusing on my unique issues. The numerous dental experiences have been very timely and the entire staff extremely kind and professional. Their dental work has been painless. Caring and competent best describes Dr. Felton and his staff."
—Gene Simon
"Being a patient of Dr Felton and this staff is one of the best decisions I've ever made. I had not been to a dentist in years and I was nervous for my first appointment. He and his staff are professional, provide a friendly and comfortable environment and have taken excellent care of me. I even look forward to my next appointments. Imagine that!"
—Darlene Lopez
"Dr. Felton and Staff. Thank you all for your consistent kindness and the highest quality dental care. You make me feel important, not just as a valued patient, but as a person too. It is a rare gift you give and greatly appreciated."
—Susan Armstrong
"Dr. Felton used a new laser to fix a filling and I didn't have to have a shot! I hate shots and it was so nice to not have to get one! Dr. Felton is wonderful! Everyone in the office is very nice also."
—Deb Irving
"It was the best experience that I have ever had at the dentist."
—Katrina
"Dr. Felton and Dr. Zahn, along with their staff, make going to the dentist a positive experience. I always know my teeth will be well taken care of, and I look forward to seeing everyone in the office! I recently had a cavity fill by Dr. Felton using laser technology. It was quick, pain-free, and I was out of the office before I knew it. To everyone in the office…Thank you!"
—Megan Williams
"Dr. Zahn (and now Dr. Felton) has been taking care of my teeth since….and my teeth keep getting better! I have always had good teeth but have been prone to gum disease. Working with this dental office has cured that problem. They are efficient, friendly and caring. I would not hesitate to recommend them to anyone. They meet their mission at all times!"
—Sheyla Keefe
"Every check-up and procedure with Dr. Felton and his warm, caring staff was a comfortable experience with very positive results. I do recommend Dr. Felton…This is painless dentistry!!
—Sally S.
"Thank you all so much for helping me acheive my dental needs! I have never felt more at ease and comfortable in a somewhat nerve racking situation. I will definately refer anyone and everyone in need of a great dental practice! Thanks again."
—Sheena