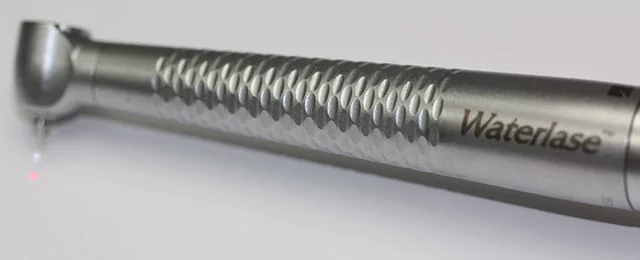 The philosophy of Missoula laser dentist Dr. Brett Felton is to treat dental situations before they develop into much larger problems. We invest in and embrace dental technology that helps us discover oral disease at its earliest stages and those technologies that help give our laser dentistry patients the best possible experience. With this philosophy, our treatments get better results and our patients have a much more pleasant experience than they may have had otherwise.
One fantastic advantage that our general dentistry practice offers to the great people of Missoula is our use of laser dentistry. Dental laser technology is a fairly recent dental advancement, but its use has already achieved remarkable and consistent results.
Types of Dental Lasers
We primarily employ two different types of dental laser in our office:
DIAGNOdent | This is a diagnostic dental laser that helps us discover cavities at its earliest stages. As a result, we are able to remove less of your tooth when we treat tooth decay. This ultimately means a more comfortable experience for our patients and their wallets.
Waterlase | This dental laser enables us to provide dental fillings with no shot or anesthetic, and it also allows us to treat certain gum problems with no trauma or bleeding. If you have a deep-seated fear of the dentist and dental drills, this dental laser may be the perfect solution to make sure you receive the dental care you need without the uncomfortable experience of shots of traditional drilling.
Though laser dentistry may sound like something out of Star Wars, advancements in dental technology have made it a reality. More importantly, these advancements have made it possible to offer necessary dental treatment comfortably to those who may have suffered in silence in the past.
If you know you need to visit the dentist but are anxious or scared to do so, rest assured that laser dentist Dr. Felton and his team can provide comfortable, compassionate care and treat any dental issues you may have whether laser dentistry or other procedures are needed.
Experience Laser Dentistry in Missoula
In need of a dentist near Missoula or Lolo, MT? Experience the precision of dental lasers in Missoula! Call, text, or contact us at Felton Dental Care using the form below to schedule a laser dentistry visit with us today!